Engine block #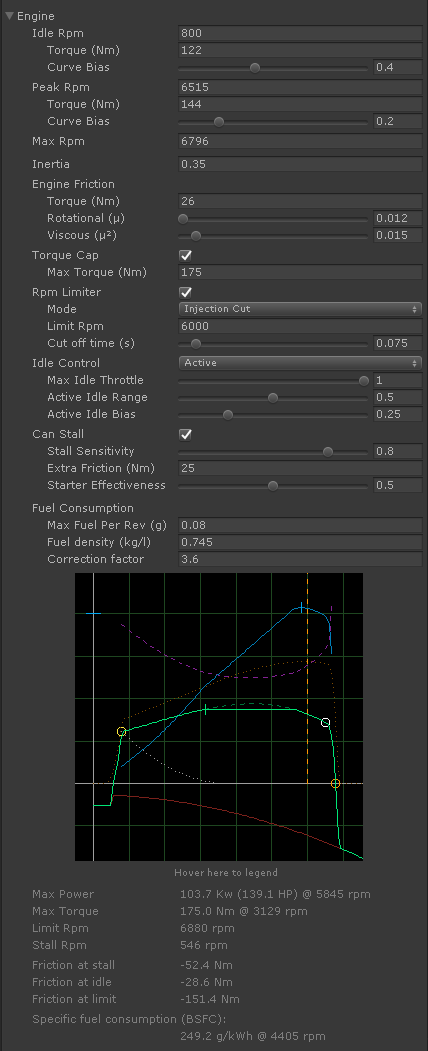 Power curve #
Most of the shape of the engine power curve depends on the idle, peak and max rpm settings. Circles in the graph represent these settings (horizontal: rpms, vertical: torque in Nm). Curve Bias values adjust the shape of the curve.
Idle: Rpms and torque when no throttle is applied.
Peak: Rpms and torque when the engine generates most power internally. This power also compensates the engine friction, so the maximum effective torque will probably be located elsewhere.
Max rpm: Maximum rpms the engine can reach on its own (without external torques).
Check out the calculated values below the graph for the engine performance data.
Inertia #
Engine friction #
Idle and stall #
The idle state can be enforced in two ways:
Passive: The engine applies the exact torque that compensates the friction at idle rpms. Works better with a steep friction curve.
Active: Vehicle's electronic system actively applies as much torque as available for keeping the idle rpms.
With Can Stall enabled the engine stalls if the rpms fall below the calculated stall rpms. This is the point in the graph near the origin where the torque curve is negative. The Stall Sensitivity settings helps adjusting the stall point. Check out the calculated values in the inspector for the exact data.
References #
Dyno curves
Brake Specific Fuel Consumption (BSFC)
Fuel consumption analysis of motor vehicle
Fuel densities